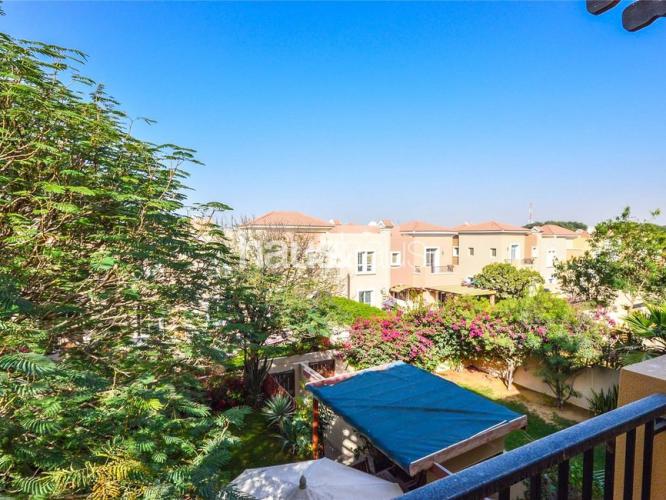 NEIGHBOURHOOD
COMMUNITY OVERVIEW
Al Reem 3 is in closer proximity to the main road network yet it offers a quiet and family-friendly environment. Key points of interest include:
Recreational facilities, parks, playgrounds
Swimming pool, landscaped area, sports courts
24-hour security
There are two parks and a pool in Al Reem 3. All properties are surrounded by lush greenery, landscaped gardens and paved walkways. Some townhomes are closer to the lake offering pleasant waterfront views.
PROPERTIES IN AL REEM 3
There are villas and townhouses in Al Reem 3 ranging from 2 to 3-bed units. A 2-bed unit spans around 1,675 sq. ft. while the size of a 3-bedroom house is around 2,000 sq. ft. Each villa or townhouse features covered parking spaces, a private lawn area and ample storage space. There are a few 4-bedroom villas as well spanning across 2,700 sq. ft.
Rental Trends in Al Reem 3
| Villa Type | Average Rental Price in AED |
| --- | --- |
| Villa Type2-Bed | Average Rental Price in AED96,000 |
| Villa Type3-Bed | Average Rental Price in AED1,290,000 |
Those looking to move to the beautiful community can choose between attached townhomes and villas for rent in Al Reem 3. Rents for a standard 3-bedroom villa that covers 2,400 sq. ft. range around AED 115k per annum. Whereas, the annual rent of a 2-bedroom villa starts from AED 88k.
Sale Trends in Al Reem 3
| Villa Type | Average Sale Price in AED |
| --- | --- |
| Villa Type2-Bed | Average Sale Price in AED1,290,000 |
| Villa Type3-Bed | Average Sale Price in AED2,005,000 |
| Villa Type4-Bed | Average Sale Price in AED2,563,000 |
Interested investors can also find villas for sale in Al Reem 3 that can reap valuable returns. The average price of a luxury 4-bed villa would be AED 2.5M. Similarly, buying a 3-bedroom villa costs around AED 2M. One can expect to pay around AED 1.3M for a 2-bedroom villa in Reem 3.
TRANSPORTATION AND PARKING SPACES IN AL REEM 3
It is recommended to travel via private conveyance because the area is in proximity to main roads and there are covered parking spaces in Al Reem 3.
Public Transportation near Al Reem 3
Those who prefer public transport can catch a few buses or hire a taxi. One can book an online cab or hire one from outside the community gates. To board a public bus, one can drive to any of the bus stations located within Arabian Ranches.
AMENITIES, SCHOOLS AND HEALTHCARE
SUPERMARKETS NEAR AL REEM 3
Residents can get most grocery items from Zoom Mart at ENOC Pump outside the community gate. Another option would be the Carrefour Market in Arabian Ranches Retail Centre.
MOSQUES NEAR AL REEM 3
To offer prayers, you can go to Arabian Ranches Community Mosque. Masjid Salam is in the neighbouring subcommunity, Polo Homes. Most residents prefer Salam Masjid to offer Friday prayers.
OTHER PLACES OF WORSHIP NEAR AL REEM 3
If you are looking for churches near Al Reem 3, head to Casa de Oracion Torre Fuerte in Al Barsha South. Reaching there may take around 20 minutes by car. 
As for Sikh members of the community, there is Guru Nanak Darbar Sikh Gurudwara in Jebel Ali. The community is also home to many churches located at short intervals, including Dubai Mar Thoma Church.
SCHOOLS NEAR AL REEM 3
For young children, there are plenty of nurseries in Arabian Ranches in proximity to the neighbourhood. Blossom Nursery is in Mudon while Raffles Nursery is in Arabian Ranches 2. You will have to pull out a car to reach any of these institutes.
Fairgreen International School and Ranches Primary School are the closest schools in Arabian Ranches 2. Moreover, Jumeirah English Speaking School (JESS) is a notable school with many branches in different areas of Dubai. One of it is within Arabian Ranches, at a short drive from Al Reem 3.
CLINICS AND HOSPITALS NEAR AL REEM 3
In case of medical emergencies, residents can access Mediclinic Arabian Ranches. Mediclinic is a reputed medical facility with branches in different parts of Dubai and Abu Dhabi. Another popular option in the vicinity is Aster Medical Centre in Ranches Souk.
NEARBY AREAS
Al Reem 3 is quite close to Al Reem 1 and 2. Other subcommunities in Arabian Ranches connected to Al Reem 3 include Terra Nova and Mirador. Moreover, Alma and Palma are residential clusters farther away within the master development. The City of Arabia, Motor City and The Villa are also close neighbours of Al Reem 3.