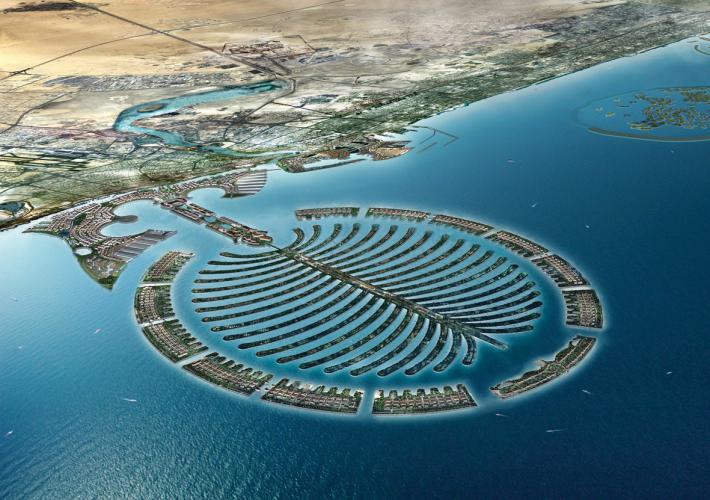 NEIGHBOURHOOD
COMMUNITY OVERVIEW
Once completed, Deira Island will be another world-class holiday destination and waterfront residential project in Dubai. Besides residential units, it features a vast retail strip, hotels and resorts. The upcoming shopping mall will be one of the biggest in the region in terms of shopping space. There will be beachfront resorts from international hospitality brands. Moreover, the expansive six marinas will serve as the stop for boats and yachts.
Properties on Deira Island
Those who wish to settle here will have a choice of apartments in 16 beachfront buildings. The 9 million sq. ft. community, Deira Central will be at the heart of the island featuring residential and hospitality developments as well as a host of modern lifestyle and entertainment facilities. Around 50 residential towers will boast a huge built-up area of 29 million sq. ft. with a capacity to accommodate 22,000 apartments and 260 townhouses. Moreover, the community features mixed-use plots to develop hotels and serviced apartment complexes. There are also a few commercial properties for rent on Deira Island.
Popular Projects on Deira Islands
Deira Central, as the name suggests, will be the centrepiece of the island featuring various residential, commercial and leisure components. An ideal address for those looking for a relaxed, secluded, beachfront lifestyle, the upmarket residential neighbourhood will have a capacity to accommodate 250,000 people.
Deira Boulevard is one of the best off-plan projects by Nakheel Properties. The tender released for construction includes 16 towers divided into four clusters featuring around 2,924 residential apartments. One can choose from 1 to 3-bedroom apartments and luxurious townhouses.
Spanning around 836,127 sq. km., Deira Boulevard Towers will feature luxurious amenities including swimming pools and fitness centres, a retail area, restaurants and recreational facilities. Each building will have parking at the podium level for at least 500 vehicles. One can also find sports courts, multipurpose rooms, garden areas and shaded walkways. The project is estimated to be completed by the end of the second quarter in 2020. Interested investors can also find a few mixed-use plots, shops and other commercial properties for sale on Deira Island.
HOTELS ON DEIRA ISLANDS
Deira Islands will be one of the best tourist places in Dubai once it is fully operational. Nakheel has joined hands with a few international hospitality brands to bring new tourism concepts to Dubai. Three major projects include:
Vienna House Deira Beach
RIU Dubai
Centara Deira Islands
Nakheel has partnered with Austria's biggest independent hotel chain, Vienna House to develop Vienna House Deira Beach, a multimillion holiday complex. The beachfront hotel will feature 600 rooms with spectacular views. 
On the other end, RIU Dubai will also be introduced for the first time in the emirate. There will be an 800-room beachfront resort offering family accommodation, seven dining outlets, three pools, a kids' playground, fitness centre and a waterpark.
Similarly, Centara Hotel and Resorts by a leading leisure company in Thailand will have a branch on Deira Island. Centara Deira Islands Beach Resort Dubai will feature 607 rooms at a prime beachfront location, an array of restaurants, kids' club, spa and fitness club and a waterpark.
Transportation and Parking Spaces on Deira Island
Like all other megaprojects by the developer, Deira Islands has a well-planned road infrastructure, walkways, parking and entertainment venues. A 600 metre, 12-lane bridge connects residents to Deira district located on the other side of the coastline. With three road bridges running over the Water Canal, the development is easily accessible via road and waterways.
AMENITIES, SCHOOLS AND HEALTHCARE
Supermarkets on Deira Islands
The retail centre in Deira Central Boulevard will have a strip of shops and convenience stores from where residents living in the Boulevard Towers will buy their groceries and other necessities.
Churches, Temples and Mosques on Deira Islands
The island will also have two mosques with a combined built-up area of 26,000 sq. ft. where 1,000 residents can offer prayers at a given time.
Clinics and Hospitals near Deira Island
Currently, there are no hospitals or clinics around the area. But the island is conveniently connected to the mainland where one can find many options. There are many hospitals in Deira, easily accessible via the bridge. Some notable options include Dubai Hospital and Kuwait Hospital.
NEARBY AREAS
Geographically, Deira Island lies next to Port Rashid and Dubai Maritime City. Connected to Deira Corniche and the central district via road bridges, the island is also close to Al Mamzar Beach Park and Al Hamriya Port.