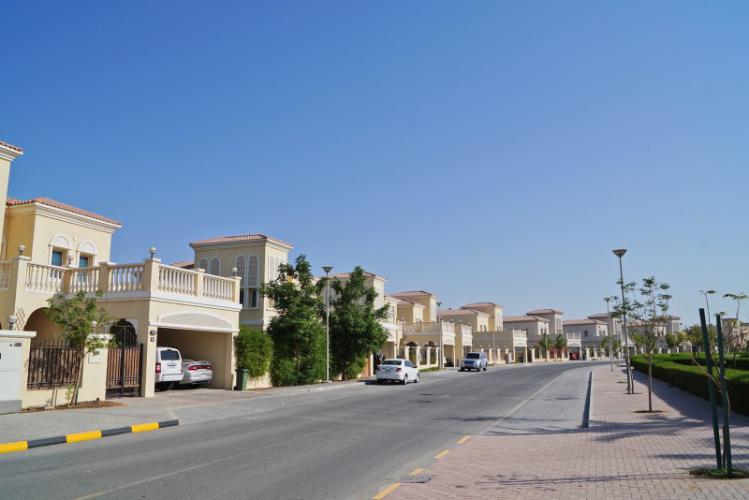 NEIGHBOURHOOD
COMMUNITY OVERVIEW
District 1B is a family-oriented neighbourhood where residents can enjoy the following amenities:
Easy access to parks and playgrounds
Well-connected road network
The community also offers easy access to basic amenities such as supermarkets, schools and clinics, and a secure environment.
PROPERTIES IN DISTRICT 1B
Properties in District 1B include villas that come in different configurations. These villas spread over an area of 2,692 sq. ft. to 4,400 sq. ft. featuring spacious living areas and bedrooms with en-suite bathrooms and built-in wardrobes. They also have a fitted kitchen, a private lawn, a balcony and a dedicated parking area.
RENTAL TRENDS IN DISTRICT 1B
Villa Type
Average Rental Price in AED
Villa Type2-Bed
Average Rental Price in AED107,000
Villa Type5-Bed
Average Rental Price in AED165,000
The price range of villas for rent in District 1B is as follows:
The annual rent for a 2-bedroom villa ranges between AED 100k to AED 110k
Interested tenants will have to sign a tenancy agreement in which the payment method and other details are stated. Usually, the post-dated cheques are demanded by realtors/landlords for an annual lease. The number of cheques for paying the lease can vary from one to four or twelve in some cases. One must check the payment procedure before signing the tenancy contract.
SALE TRENDS IN DISTRICT 1B
One can buy villas in District 1B in the following price range:
The purchasing price of a 5-bedroom villa ranges between AED 3.2M to AED 3.3M
The price range of a property depends largely upon the coverage area and the amenities offered.
TRANSPORTATION AND PARKING SPACES IN DISTRICT 1B
Each villa comes with a dedicated car parking area in District 1B. Residents can park up to two cars in the facility, while guests can avail the spaces on the street for parking.
PUBLIC TRANSPORTATION IN DISTRICT 1B
Driving to and from the neighbourhood through a private car is convenient as the area is bounded by the major road of the city. Sheikh Mohammed Bin Zayed Road and Al Khail Road are easily accessible through Tulip Street, running north of the community.
As for public transportation in District 1B, residents can get bus and metro service in a 10 to 15-minute drive. The nearest bus station includes Discovery Garden bus station and Dubai Production City bus station. Those looking for metro service can drive for 10-minutes towards the north to avail the service from DMCC Metro Station and DAMAC Properties Metro Station.
AMENITIES, SCHOOLS AND HEALTHCARE
SUPERMARKETS NEAR DISTRICT 1B
Residents can shop daily usage items from these supermarkets near District 1B:
Danat Express Supermarket
Needs & Fresh Mini Mart
F Mart Supermarket
Cherry Grocery
All these grocery stores are accessible in a 4 to 8-minute drive. Other supermarkets in the neighbouring communities include KP Mart Supermarket and Spinneys.
MOSQUES NEAR DISTRICT 1B
Muslim fellows can offer their daily prayers in mosques near District 1B. These include Samad Mosque, Nakheel Mosque and Jumma Mosque. It will take a 10 to 12-minute drive to reach these mosques.
OTHER PLACES OF WORSHIP NEAR DISTRICT 1B
Christian community members can visit churches near District 1B in a 10 to 15-minute drive. These include United Christian Church of Dubai, St. Francis of Assisi Church and Christ Church Jebel Ali. For those who follow Sikhism, Guru Nanak Darbar is located at a 10-minute drive in Jebel Ali.
SCHOOLS NEAR DISTRICT 1B
Nursery schools near the community are:
Kids Kingdom Nursery
Jumeirah International Nursery
Raffles Nursery
Schools near District 1B are:
Arcadia School
Sunmarke School
Bright Riders School Dubai
Arcadia School follows the National Curriculum of England for Foundation Stage to Year 8 students. It is a private co-education school accessible in a 6-minute drive. Sunmarke School is one of the best schools in Dubai situated in District 5, JVT. Other schools near the community are Bright Riders School Dubai and Dubai British School.
CLINICS AND HOSPITALS NEAR DISTRICT 1B
Healthcare facilities near the community include:
Mediclinic Meadows
NMC Royal Hospital
Saudi German Hospital
Mediclinic Meadows is a premium healthcare facility offering services for dentistry, internal medicine, orthopaedics, dermatology and family medicine. The clinic near District 1B is accessible in a 13-minute drive. Other options include iCare Clinic Discovery Gardens and Karama Medical Centre.
NEARBY AREAS
District 1B is surrounded by popular villa communities and apartment buildings of District 1. These include:
Other sub-communities of District 1 such as District 1A and District 1C are also located close to the neighbourhood. Towards the west lies Jumeirah Park and Discovery Gardens while Jumeirah Village Circle is situated to the east. Other nearby areas include Dubai Production City and The Springs.