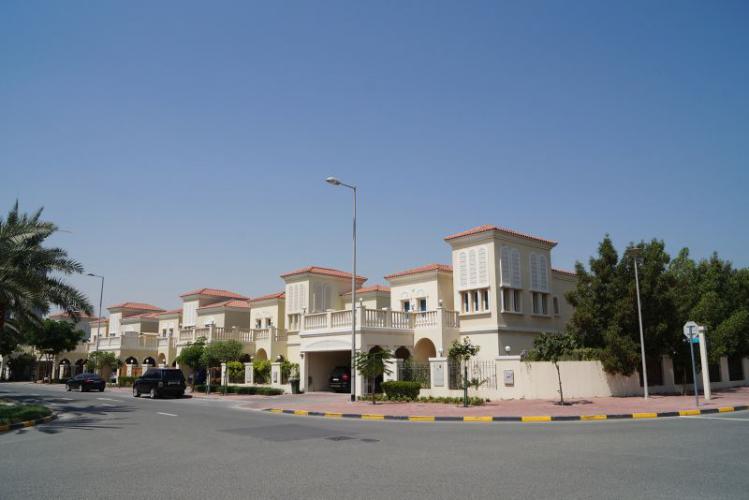 NEIGHBOURHOOD
COMMUNITY OVERVIEW
Jumeirah Village Triangle is well-connected to key residential and commercial districts in the city. It is one of the family-centric and pet-friendly communities in Dubai offering a range of modern amenities and recreational options at a hand's length. Points of interest in District 3C, JVT include:
Family parks
Fitness amenities
Excellent security
District 3C is a gated neighbourhood. It has a calm and quiet environment despite being in proximity to the main roads. Thus, residents can easily access key areas and landmarks within a few minutes.
PROPERTIES IN DISTRICT 3C
Properties in JVT District 3C include 2-bedroom houses. The series of attached townhouses include spacious 1-bed and 2-bed floor plans. These are usually duplex units featuring fitted en-suites, kitchen with regular appliances, ample parking space, storage space and outdoor area. Some townhomes include a master bedroom + study. A common feature for all residential properties is the availability of covered parking and balcony. There are also some upgraded 5-bedroom townhouses with a total built-up area of 4,000 sq. ft. or more. A standard townhouse for rent spread around 2,700 sq. ft. featuring two bedrooms costs around AED 100k per annum.
TRANSPORTATION AND PARKING SPACES IN DISTRICT 3C
Floor plans of villas and townhouses feature covered parking spaces in District 3C. It is also recommended to travel via private conveyance since the main roads are conveniently accessible. One can get to E311, Sheikh Mohammed Zayed Road within 3 minutes that further connects to Al Khail Road, E44.
Public Transportation in District 3C
Those looking for public transportation can board a bus from nearby stations. The closest bus stop is at Centrium Tower in the neighbouring Dubai Production City community served by Bus F34 and J02. The station is accessible in around 13 minutes by car via Sheikh Mohammed Bin Zayed Road, E311.
AMENITIES, SCHOOLS AND HEALTHCARE
SUPERMARKETS NEAR DISTRICT 3C
There is an outlet of F Mart within District 3. Residents can also find these supermarkets close to the cluster:
Triangle Supermarket
Cherry Grocery
Swiss Mart
Triangle Supermarket is the central grocery store in Jumeirah Village Triangle. Cherry Grocery is also easily accessible while Swiss Mart in City Centre Me'aisem is a 12-minute drive away. District 3C residents can also get their groceries from Danat Express.
MOSQUES NEAR DISTRICT 3C
Muslim residents can access JVT community mosque near District 3C. Other mosques are located in Dubai Production City. So, you have to drive for around 15 minutes to get there.
OTHER PLACES OF WORSHIP NEAR DISTRICT 3C
Those looking for a church near District 3C must prepare for a 15-minute long drive to Jebel Ali Village. Here, one can find The Metropolitan Mark Chords, International Nepalese Catholic Church, United Christian Church of Dubai and St. Francis of Assisi Catholic Church at short intervals. The first ISO certified gurudwara, Guru Nanak Darbar is also located in Jebel Ali.
NURSERIES AND SCHOOLS NEAR DISTRICT 3C
For young toddlers, there are a few nurseries close by. Jumeirah International Nursery is one of the best pre-schools in Dubai. It is a 4-minute short drive away from District 3C. Other schools in the vicinity include:
Arcadia School
Dubai British School
The latter is a notable British curriculum school in Dubai with branches in many areas throughout the emirate. Sunmarke School is another option within JVT around 4 minutes away.
CLINICS AND HOSPITALS NEAR DISTRICT 3C
These are some medical facilities in the vicinity:
Medcare Medical Centre
Mediclinic Me'aisem
Mediclinic Meadows
Mediclinic is a notable medical facility with many branches in Dubai. Clinics near District 3C include Mediclinic Me'aisem and Mediclinic Meadows.
New Royal Hospital in the neighbouring community of Dubai Investments Park (DIP) is accessible in around 11 minutes. Aster Clinic is also located at the same distance.
NEARBY AREAS
District 3C is one of the sub-communities in JVT. It is located next to District 3B and District 3D. Other communities near District 3C are:
Production City
The Springs
JVC
JVT is a sister community of Jumeirah Village Circle. Sub-communities in JVC close to District 3C include Seasons Community and District 12K. 10 minutes away along Sheikh Mohammed Bin Zayed Road (E311), there is Dubai Sports City.