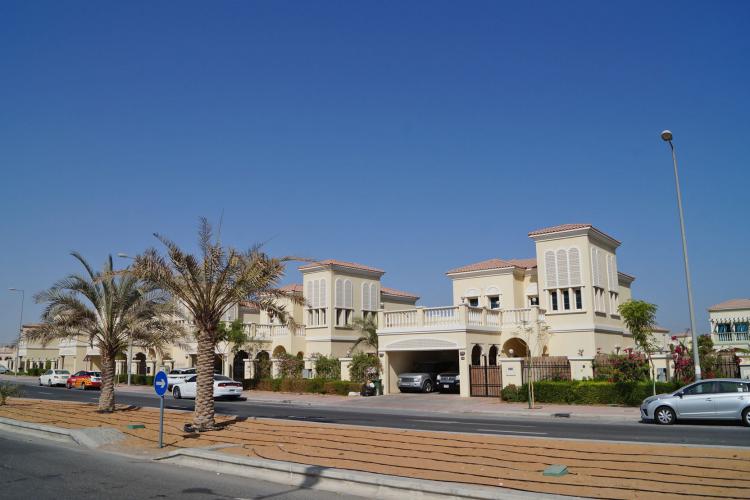 NEIGHBOURHOOD
COMMUNITY OVERVIEW
District 4E is a family-friendly community with following points of interest:
A peaceful green community
In proximity to a range of amenities and facilities
The sub-district is also connected to major roads providing hassle-free commutes.
PROPERTIES IN DISTRICT 4E
Properties in District 4E consist of villas mainly with an area ranging between 2,700 sq. ft. to 6,807 sq. ft. These two-storey villas come with a spacious living area, bedrooms with attached en-suite bathrooms and built-in wardrobe and a fitted kitchen. The maid's room, powder room and balcony are other features of these houses. The availability of a private garden, pool and garage depends on the unit type you are renting or purchasing.
RENTAL TRENDS IN DISTRICT 4E
The price range of rental villas in District 4E is as follows:
Rent for a 2-bedroom villa is AED 105k per annum
After choosing the property of your choice, the next step is to negotiate for rent and sign the tenancy agreement. Usually, landlords or realtors provide the convenience to pay annual lease in one to four post-dated cheques or months in some cases. It is advisable to check the payment plan before signing the tenancy contract.
SALE TRENDS IN DISTRICT 4E
One can buy a villa in District 4E in the following price range:
The starting price of a 2-bedroom villa is AED 2.3M and it can go up to AED 4M
Buying a property in the community can be a profitable asset for investors and end-users alike.
TRANSPORTATION AND PARKING SPACES IN DISTRICT 4E
Most of the villas come with a dedicated parking space in District 4E. Residents can easily park one or two cars in the facility. Guests can avail the parking spot outside the villa for their vehicles.
PUBLIC TRANSPORTATION IN DISTRICT 4E
Residents looking for means of public transportation in District 4E can avail bus and taxi service for the commute. The nearest bus stations are Dubai Production City bus station and JVC Shoba Daffodils Apartments bus station, accessible in a 13-minute drive. Residents can also access metro service after driving for around 10 to 15-minutes. The closest stations are DMCC Metro Station and DAMAC Properties Metro Station.
AMENITIES, SCHOOLS AND HEALTHCARE
SUPERMARKETS NEAR DISTRICT 4E
Residents can buy daily essentials from these supermarkets near District 4E:
Safestway Supermarket
F Mart Supermarket
Triangle Supermarket
F Mart Supermarket offers fresh fruits and vegetables, dairy products, baked items, household products and much more. The supermarket is located a 4-minute drive from the community. Other supermarkets nearby include Cherry Grocery and Danat Supermarket.
MOSQUES NEAR DISTRICT 4E
Since the community mosque in JVT District 4 is under construction, residents can head to neighbouring areas to offer daily prayers. Jama Mosque and Saleh Mohammed Bin Lahej Mosque are a few of the mosques near District 4E accessible in a 14-minute drive.
OTHER PLACES OF WORSHIP NEAR DISTRICT 4E
Christian community fellows can visit some of the best churches in Dubai in a 12 to 15-minute drive. These include Dubai Mar Thoma Church and Saint Mina Coptic Orthodox Church. Temples near District 4E are located at a half an hour drive towards the north in Bur Dubai. The popular ones are Shri Krishna Haveli and Shiridi Sai Baba Mandir.
SCHOOLS NEAR DISTRICT 4E
Nursery schools near the residential community are:
Jumeirah International Nursery
Kids World Nursery
Kids Kingdom Nursery School
Some of the popular schools near District 4E are:
Sunmarke School
Arcadia School
Dubai British School
Sunmarke School is a co-educational school that follows the National Curriculum of the UK for children aged 3 to 18-years old. The school has laboratories, IT-enabled classrooms, activity room, an auditorium and indoor and outdoor spaces for sports activities. It will take a short drive of 4-minutes to reach the school. Other reputable educational institutes nearby are Dubai British School and JSS International School.
CLINICS AND HOSPITALS NEAR DISTRICT 4E
Residents can access healthcare facilities from following clinics and hospitals near District 4E:
Mediclinic Me'aisem
Karama Medical Centre
NMC Royal Hospital
Mediclinic Me'aisem features a range of specialities such as family medicine, paediatrics and obstetrics and gynaecology. It is located at a 14-minute drive in City Centre Me'aisem. Other facilities nearby include Mediclinic Springs and New Al Shefa Polyclinic.
NEARBY AREAS
District 4E is surrounded by other sub-communities of District 4 such as District 4G and District 4B. Other apartment buildings near the community are:
Al Manara Tower
BQ2 Residence
Jenin Building
Jumeirah Village Circle and The Springs community are located to the east and north while Dubai Production City is situated towards the south. Other nearby areas include Dubai Sports City and Emirates Hills.