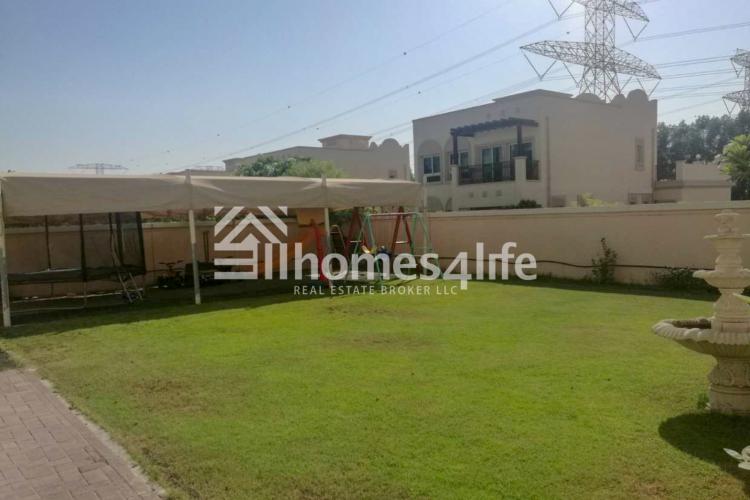 NEIGHBOURHOOD
COMMUNITY OVERVIEW
JVT is a peaceful neighbourhood despite being connected to the main roads network. Key highlights of the area include:
Community pond park
Private swimming pools
Kids' playgrounds
24-hour security
The residential area of District 8I is surrounded by lush greenery. Residents can find manicured gardens, swimming pools and jogging tracks close to their homes. Also, Sheikh Mohammed Bin Zayed Road, E311 extends on one side of the community connecting residents to Dubai's key areas.
PROPERTIES IN DISTRICT 8I
As for residential properties in District 8I, there is a cluster of detached and semi-detached villas as well as townhouses. You will find 2-bedroom units here spread across 2,700 sq. ft. to 2,900 sq. ft. Other options include 1-bed + study duplex units. All properties feature dedicated and covered parking space, a terrace, outdoor space with private lawn or front/back yard and ample storage space. The annual cost of renting a standard 2-bedroom house would be around AED 105k while a 1-bedroom villa covering 1,937 sq. ft. of space costs around AED 65k per annum.
TRANSPORTATION AND PARKING SPACES IN DISTRICT 8I
Commuting via private conveyance is recommended for those moving to District 8I. There are plenty of parking spaces for residents as well as visitors. Each villa or townhouse features dedicated covered parking spaces in District 8I. Whereas, guests can find a free spot on the street.
Moreover, the community is bound by major highways of the UAE. Those who drive can get to Sheikh Mohammed Bin Zayed Road E311 within 5 minutes that further connects to Al Khail Road E44 and other key areas of Dubai.
Public Transportation in Al Mankhool
F 31, F 34, J 01 and J 02  shuttle near District 8I JVT. One can catch a taxi outside the community gates or drive to bus stations in the neighbouring localities, The Springs, The Meadows and Dubai Production City.
AMENITIES, SCHOOLS AND HEALTHCARE
SUPERMARKETS NEAR DISTRICT 8I
Residents can get groceries from these supermarkets near District 8I, JVT:
Cherry Grocery
F Mart
Danat Express
Cherry Grocery is a 5-minute drive away from the district. New Safestway Cafe and Supermarket is right next to it. The superstore stocks grocery items, including fresh fruits and vegetables, dairy products, meat and seafood. Danat Express and F Mart are also easily accessible.
MOSQUES NEAR DISTRICT 8I
Muslim residents can offer prayers at the community mosque near District 8I. JVT Mosque is a 5-minute short drive away while other mosques in Production City and The Meadows are a bit farther.
OTHER PLACES OF WORSHIP NEAR DISTRICT 8I
If you want to visit a church, you can prepare for a 13 to 15-minute long drive to Jebel Ali Village. There are many churches in Jebel Ali including St. Francis of Assisi Catholic Church, St. Mina Coptic Orthodox Church, United Christian Church of Dubai and The Filipino Christian Church of Dubai. Guru Nanak Darbar Sikh Gurdwara is also at the same distance in Jebel Ali Village.
SCHOOLS NEAR DISTRICT 8I
Nurseries in the vicinity are:
Raffles Nursery
Jumeirah International Nursery
Kids Kingdom Learning Centre
Jumeirah International Nursery is one of the most notable pre-schools in Dubai. Located within Jumeirah Village Triangle, it is accessible in around 5 minutes by car. Other schools near District 8T include:
Dubai British School
Sunmarke School
Emirates International School
A notable option, Dubai British School is one of the best British schools in Dubai. It is accessible in around 10 minutes by car. The school is located in Emirates Hills. Sunmarke School is located in JVT and offers the IB curriculum.
CLINICS AND HOSPITALS NEAR DISTRICT 8I
JVT District 8I residents can access these health and medical facilities in the vicinity:
Emirates Hospital
Mediclinic Meadows
Mediclinic Parkview Hospital
American Hospital Clinic
In case of medical emergencies, residents can head to speciality clinics in the neighbouring localities. These include Mediclinic Meadows in The Meadows Dubai and American Hospital Clinic in Al Barsha South. There are many branches of Mediclinic in various areas of Dubai. Emirates Hospital and Mediclinic Parkview Hospital are two of the most reputed hospitals in Dubai near District 8I.
NEARBY AREAS
Located within Jumeirah Village Triangle, District 8I neighbours these areas:
The Springs
Jumeirah Village Circle (JVC)
Dubai Production City
Jumeirah Village Circle is a sister community of JVT located right next to the development and connected via highways. Its sub-communities including various districts and Seasons Community are a short drive from District 8I. Dubai Production City is towards the southern border.