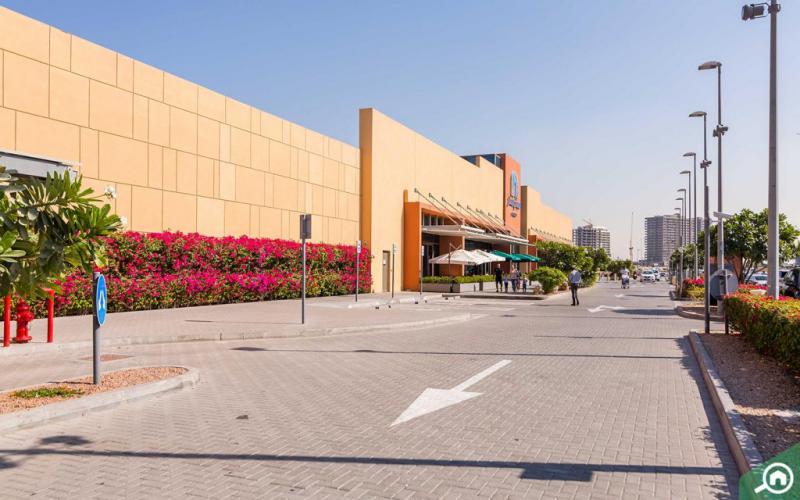 NEIGHBOURHOOD
COMMUNITY OVERVIEW
Conveniently located, JVT is one of the most pet-friendly communities in Dubai. District 8L residents also enjoy all communal facilities. Some highlights of the area include: 
Family parks
Sports courts
Kids' playgrounds
Round-the-clock security
District 8L is a quiet and family-centric neighbourhood despite its proximity to the main roads. It is one of the Dubai areas with district cooling services. Residential properties are built in homogenous clusters amidst lawns, leafy walkways and parks. Freehold properties in District 8L are a good option for investors in search of reasonable options.
PROPERTIES IN DISTRICT 8L
District 8L is part of one of the most family-friendly areas in Dubai. If you take a quick stroll through the cluster, you will primarily find modern villas on offer. There is a mix of simplex and duplex 1-bedroom and 2-bedroom units. Some are semi-detached while others are independent villas. Prices also vary based on the floor plan, covered space, configuration and unit type.
A 1-bedroom villa typically covers 1,937 sq. ft. of land area. Such ready units include a spacious bedroom extending into a balcony, an attached bathroom, a guest bathroom, a fitted kitchen and a living room. Similarly, the covered area of a 2-bedroom villa is 2,690 sq. ft. Each residential unit features a private lawn, storage space, covered parking and terrace.
Rental Trends in District 8L
Those searching for affordable accommodation can consider villas for rent in District 8L. With annual rents starting from AED 65k, there are 1-bedroom standard units on offer. Since prices are market competitive and JVT is a sought-after location, most properties are already occupied. Moreover, rents are calculated on a per annum basis. Some realtors and landlords may offer flexible payment schedules splitting the amount into multiple cheques paid throughout the year.
Sale Trends in District 8L
Interested investors can also find a few villas for sale in District 8L. The community is part of a sought-after address in Dubai, ideally located close to the main road network and a range of amenities. Therefore, most of it is already sold out. One can still find a few 2-bed villas on offer. Those looking to buy properties can prepare to fork out around AED 2.2M.
TRANSPORTATION AND PARKING SPACES IN DISTRICT 8L
Driving to and from the area is convenient since it is close to a few major highways of the UAE. Residents get direct access to Al Khail Road, E44 within 8 minutes while Sheikh Mohammed Bin Zayed Road, E311 is accessible in 6 minutes. Also, each residential property features covered parking spaces in District 8L.
Public Transportation in District 8L
A few bus links including F 31, F34 and J01 shuttle nearby. Bus stations in the neighbouring communities, The Springs, The Meadows and Production City are accessible within a few minutes by car. One can also catch a taxi shuttling outside the gates of the community or book an online cab.
AMENITIES, SCHOOLS AND HEALTHCARE
SUPERMARKETS NEAR DISTRICT 8L
There are some supermarkets near District 8L including:
Triangle Supermarket
FMart
Cherry Grocery
Residents can get their groceries from Triangle Supermarket. It is a go-to option for most JVT residents. Other options including FMart and Cherry Grocery are also within Jumeirah Village Triangle but in different clusters, so these can be accessed by car in less than 5 minutes. Moreover, an outlet of Spinneys in JVC is a 12-minute drive away.
MOSQUES NEAR DISTRICT 8L
Muslim residents can offer prayers at JVT Mosque near District 8L. It is around 4 minutes away. Jummah Mosque in the neighbouring community, Production City and Me'aisem Mosque in the City Centre are also close by.
OTHER PLACES OF WORSHIP NEAR DISTRICT 8L
To find a church, prepare for a 15-minute long drive to Jebel Ali. Here, you will find The Metropolitan Mark Chords, United Christian Church of Dubai, The International Nepalese Community Church and many others at short intervals. St. Francis of Assisi Catholic Church also known as Jebel Ali Church is around 13 minutes away in Jebel Ali Village. At the same distance, there is the Guru Nanak Darbar.
SCHOOLS NEAR DISTRICT 8L
There are a few daycare centres and nurseries in the vicinity including:
Raffles Nursery
Jumeirah International Nursery
Kids Kingdom Learning Centre
Raffles Nursery in Emirates Hills is 8 minutes away. Jumeirah International Nursery is a popular option within JVT. It is one of the most affordable nurseries in Dubai, only 3 minutes away from District 8 Block L. Kids Kingdom Nursery is 15 minutes away in IMPZ. Some of Dubai's top schools are also in proximity to 8L such as:
Arcadia School
Sunmarke School
Dubai British School
Dubai British School is one of the most notable British curriculum schools in Dubai. There are two branches of this institute and both are easily accessible from JVT District 8L. Moreover, Sunmarke School offers the IB curriculum as well as a pre-school program for toddlers aged between 45 days to 4 years. The institute is accessible in around 3 minutes by car.
CLINICS AND HOSPITALS NEAR DISTRICT 8L
District 8L residents can access these clinics and hospitals nearby:
Emirates Hospital
Mediclinic Meadows
Mediclinic Parkview Hospital
American Hospital Clinic
Mediclinic Meadows in Meadows Dubai and American Hospital Clinic in Al Barsha South are speciality clinics. Emirates Hospital and Mediclinic Parkview Hospital are two of the most reputed hospitals in Dubai. These medical service providers are easily accessible from District 8L within 14 minutes by car.
NEARBY AREAS
Located within JVT, District 8L lies amidst the other 8 residential clusters. District 5, 6 and 7 are some sub-communities immediately next to it. The area is also in proximity to sub-clusters in JVC including District 12K and Seasons Community. Other communities in proximity include:
Spring Dubai
Dubai Sports City
Dubai Production City
Jumeirah Village Circle (JVC) is a sister community of Jumeirah Village Triangle (JVT). The two neighbourhoods are connected via highways. Dubai Production City is towards the southern border while The Springs is a bit away to the north. Major highways connect District 8L to landmark locations such as Al Barsha South, Dubai Sports City and Golf City.