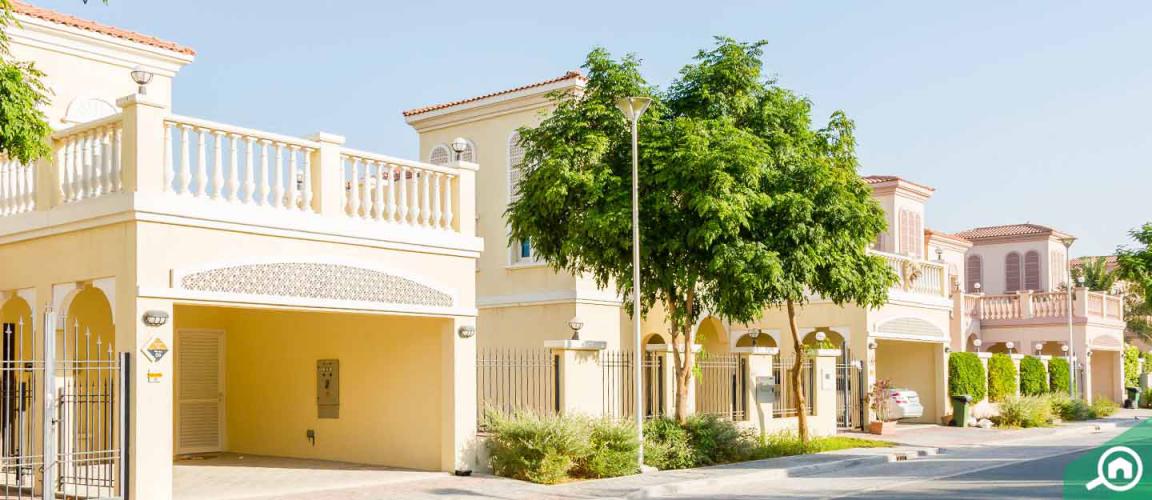 NEIGHBOURHOOD
COMMUNITY OVERVIEW
Residents in JVT District 8M can enjoy all communal facilities. They live in a closely-knit community with recreational facilities well within reach. JVT Pond Park and tennis courts are also in proximity. Some key points of interest for living in JVT include:
Family parks
Sports courts
Kids' playgrounds
Round the clock security
As part of a family-centric neighbourhood, District 8 Block M features all kinds of modern amenities expected from any other Nakheel project. Also, JVT is one of the most pet-friendly communities in Dubai. Residential properties are arranged in homogenous clusters surrounded by lush greenery. Since the main road is in proximity, residents enjoy convenient access to other residential and commercial neighbourhoods while the community has a calm and quiet environment.
PROPERTIES IN DISTRICT 8M
Most properties in District 8M are already occupied or sold out. As for the types of units in this cluster, one may find duplex houses. There are mostly 2-bedroom villas spanning across 2,000 sq. ft. Residential units feature Mediterranean architecture with private lawn and rooftop terrace. Each villa also features dedicated parking space, built-in wardrobe and fitted kitchen. District 8M is a villa-only cluster in one of the most family-friendly areas in Dubai. The sale price of villas in District 8M starts from AED 2.4M.
TRANSPORTATION AND PARKING SPACES IN DISTRICT 8M
District 8M is bound by a few major highways of the UAE. Those who drive can get to Al Khail Road E44 within 7 minutes and Sheikh Mohammed Bin Zayed Road E311 in around 5 minutes. Also, residents will find covered parking spaces in District 8M with a capacity to accommodate up to two vehicles. Visitors can find a free spot on the street.
Public Transportation near District 8M
Those who would prefer public transportation near District 8M can consider hiring a taxi from outside the community gates. One can also book an online cab or board in a bus from the station close by. Bus link F 31, F 34 and J 01 stop at the stations in the neighbouring communities, Meadows, Spring Dubai and Production City.
AMENITIES, SCHOOLS AND HEALTHCARE
SUPERMARKETS NEAR DISTRICT 8M
These are some supermarkets near District 8M, JVT:
Triangle Supermarket
FMart
Cherry Grocery
Residents can shop for groceries from Triangle Supermarket. It is a go-to mart for most residents in Jumeirah Village Triangle. Other options like FMart and Cherry Grocery are also within the community but in different clusters. You can access these supermarkets by car within 5 minutes. Moreover, an outlet of Spinneys in JVC is approximately 12 minutes away.
MOSQUES NEAR DISTRICT 8M
Muslim residents can offer prayers at JVT Mosque near District 8M. It is accessible in around 4 minutes by car. Jummah Mosque in the neighbouring community, Production City and Me'aisem Mosque in the City Centre, are also nearby.
OTHER PLACES OF WORSHIP NEAR DISTRICT 8M
Churches in Jebel Ali are accessible in around 15 minutes by car. One can conveniently visit The International Nepalese Community Church, The Metropolitan Mark Chords, St. Francis of Assisi Catholic Church (also known as Jebel Ali Church), the United Christian Church of Dubai and others. The Sikh community can also find the world's first ISO certified gurdwara: Guru Nanak Darbar.
SCHOOLS NEAR DISTRICT 8M
Some nurseries close to the area include:
Raffles Nursery
Jumeirah International Nursery
Kids Kingdom Learning Centre
Jumeirah International Nursery is a popular option within Jumeirah Village Triangle. It is one of the most affordable nurseries in Dubai. District 8M residents can easily access Jumeirah International Nursery in less than 5 minutes by car. Raffles Nursery is in Emirates Hills, accessible in less than 10 minutes by car. Kids Kingdom Nursery is 15 minutes away in IMPZ. Some of Dubai's top schools are also in proximity to District 8 Block M, JVT such as:
Arcadia School
Sunmarke School
Dubai British School
Dubai British School is one of the most notable British schools in Dubai. There are two branches of this school, and both are conveniently accessible from JVT District 8M. Moreover, Sunmarke School offers the IB curriculum as well as a pre-school program. The institute is accessible in around 2 to 3 minutes by car.
CLINICS AND HOSPITALS NEAR DISTRICT 8M
These clinics and hospitals near District 8M are easily accessible by car:
Emirates Hospital
Mediclinic Meadows
Mediclinic Parkview Hospital
American Hospital Clinic
Mediclinic Meadows in The Meadows and American Hospital Clinic in Al Barsha South are specialty clinics. There are quite a few branches of Mediclinic in different areas of Dubai.
Emirates Hospital and Mediclinic Parkview Hospital are two of the most reputed hospitals in Dubai. These are easily accessible from JVT District 8 Block M within 15 minutes.
NEARBY AREAS
District 8M lies amidst the other residential clusters in JVT. District 5, 6 and 7 are some immediate neighbours. The area is also in proximity to sub-communities in JVC including District 12K and Seasons Community. Other areas in proximity include:
Spring Dubai
Dubai Sports City
Dubai Production City
Jumeirah Village Circle (JVC) is a sister community of Jumeirah Village Triangle (JVT). The two neighbourhoods are connected via highways. Dubai Production City is towards the southern border of District 8M while The Springs is farther away to the north. Main highways connect JVT District 8M to key locations such as Al Barsha South, Dubai Sports City and Golf City.