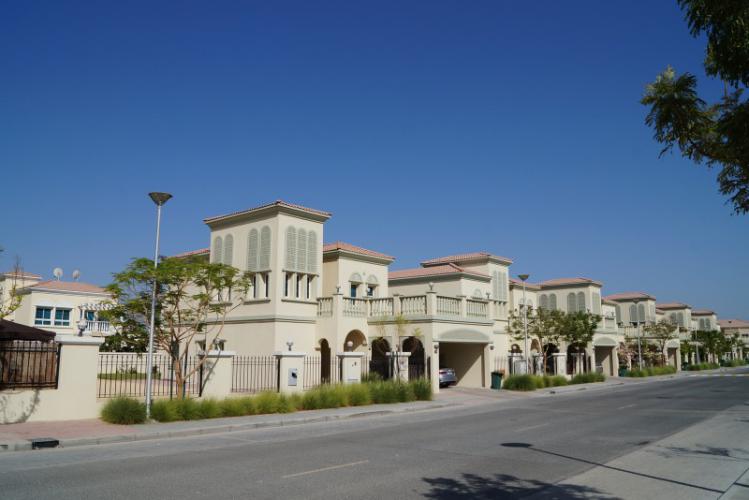 NEIGHBOURHOOD
COMMUNITY OVERVIEW
The highlights of District 8Q are:
Community park
Private pool and backyard
Play area for kids
Tight security
District 8Q is part of a community where one can enjoy several shared facilities, including a pond park, several sports courts and green spaces. Moreover, high-end security is maintained in the area, which benefits every resident.
PROPERTIES IN DISTRICT 8Q
Properties in District 8Q consists of standalone villas that come with top-notch amenities and a modern interior. The villas stand tall and luxurious, featuring backyards and swimming pools, balconies and large airy hallways. There is also a maid's room available in each villa for house help.
TRANSPORTATION AND PARKING SPACES IN DISTRICT 8Q
Residents will find covered parking spaces in the garage, available inside each villa.
Public Transportation in District 8Q
If you rely on public transportation near District 8Q, you will find bus stops in the neighbouring communities. Dubai Production City Centrum tower bus station is the closest one, located 10 minutes away from the district. To reach the bus stop, however, you can hire a cab or book it online. Getting a metro from JVT is also easy, as Al Furjan Metro Station is 13 minutes away.
AMENITIES, SCHOOLS AND HEALTHCARE
SUPERMARKETS IN DISTRICT 8Q
JVT has three supermarkets that are easily accessible from each residential cluster of the area. CherryGrocery LLC is the closest one from District 8Q, only 3 minutes away, while F Mart Supermarket and Danat Express are located on the western end of the community, taking 5 minutes to reach from District 8Q. A Spinneys is located in The Town Centre, 11 minutes away.
MOSQUES IN DISTRICT 8Q
For the spiritual needs of Muslim residents, JVT has a grand community mosque that can accommodate more than 200 people. Other options are available in the neighbouring areas, such as Jumaa Mosque, Me'aisem Mosque, Samad Mosque and Masjid Wahid.
OTHER PLACES OF WORSHIP NEAR DISTRICT 8Q
Cassa De Oracion Torre Fuerte is the closest church for the Christian community, available in a 16-minute drive via Al Khail Road in the Al Barsha South community. Head north on the same road and you will find The Gatekeepers Weekday Warehouse in Al Quoz.
St. Mary's Catholic Church and St. Francis of Assisi Catholic Church are considered the best churches in Dubai, available within 13 minutes of drive in Jebel Ali.  
SCHOOLS IN DISTRICT 8Q
Since District 8Q is part of a family-oriented community, you will find many schooling options nearby. Some pre-primary options include:
Kings Kingdom Nursery School
Raffles Nursery Town Centre
Amity Pre-School
Jumeirah International Nursery
Kids World Nursery
Jumeirah International Nursery is part of the community itself, while all the aforementioned schools are available within a 10-minute driving radius. As for primary and secondary schools near District 8Q, one will find the following:
Schools in Al Mankhool include:
Arcadia School
Sunmarke School
Arcadia School and Sunmarke School are both private and co-educational schools, part of the JVT community. Both these schools follow the National Curriculum of England. Arcadia school now has a branch that offers secondary education, where children from higher than Grade 7 can enrol. While the Sunmarke School accommodate students from the foundation stage to Grade 13th.
Higher education options nearby include Keystrokes University, Concordia University and the University of Balamand Dubai.
CLINICS AND HOSPITALS NEAR DISTRICT 8Q
Clinics and Hospitals near District 8Q include:
Mediclinic Me'aisem
Al Das Medical Clinic
NMC Royal Hospital
All these clinics and hospitals are available within a 10-minute of driving distance from JVT. NMC Royal Hospital is a multispecialty medical facility in the neighbouring district of Dubai Investments Park.
NEARBY AREA
District 8Q is a sub-community of JVT, a centrally located community in Dubai surrounded by many well-established residential and commercial communities. Sharing its borders are:
Jumeirah Village Circle
Emirates Hills
Dubai Production City
Dubai Sports City
The above-mentioned areas surround the larger community from all four directions, Jumeirah Village Circle (JVC) on its east, Dubai Production City on its west, Dubai Sports City towards the south and Emirates Hills covers the north.
Some neighbouring blocks of JVT District 8 are District 8 U, District 8 O, District 8 K, District 8 I and District 8 J.