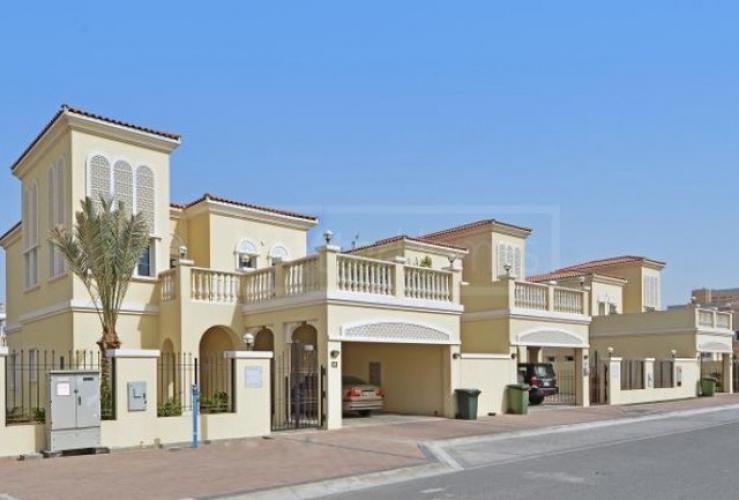 NEIGHBOURHOOD
COMMUNITY OVERVIEW
Jumeirah Village Circle is one of the most family-friendly communities in Dubai, owing to its tranquil atmosphere, walkways, affordable residential options and green spaces.
Amidst the numerous properties in the community, Divine Homes is a row of 12 townhouses that come in 4-bed configurations and consist of two floors above ground. The townhouses are close to both Sheikh Mohammed Bin Zayed Road (E311) and Al Khail Road (E44).
Popular points of interest in these townhouses include:
Expansive built-up areas
State-of-the-art décor 
Private gardens and swimming pools
Easy access to parks and restaurants
PROPERTIES IN DIVINE HOMES
Consisting of 3-storey 12 townhouses, Divine Homes offers units in 4-bedroom configurations featuring built-up areas of 4,100 sq. ft. while the floor area of each plot is 1,875 sq. ft. 
The ground floor of each townhouse features a garage, a garden, a swimming pool, an expansive living area with a powder room and a small terrace, a closed kitchen as well as a maid's room with an attached bath. The maid's room has a separate exterior entrance. The bedrooms lie on the first and second floors and feature en-suite bathrooms as well as terraces. 
You will find built-in wardrobes in the bedrooms whereas the kitchens have built-in cabinets as well as kitchen appliances. The flooring consists of Italian marbles while the interiors have Italian finishing with wooden parquet too. The stairs leading to the upper floors have glass balustrades as well as a closet on the ground floor.
Rental Trends in DIVINE HOMES
Renting townhouses in Divine Homes requires you to shell out from AED 110K to AED 125K per year. These townhouses are also available as villas for rent in Divine Homes on Bayut. 
HOTELS NEAR DIVINE HOMES
FIVE Jumeirah Village is the closest hotel near Divine Homes and can be reached within a drive of 6 minutes. It is the only hotel in JVC and is a 5-star hotel with 247 hotels and 254 apartments along with amenities such as a large swimming pool, a spa, gym and restaurants.
Those interested in more options can find hotels outside the area, such as:
Ghaya Grand Hotel & Apartments – 5-star hotel
Park Inn by Radisson – 4-star hotel
Aloft Me'aisem – 4-star hotel
Treppan Hotel & Suites – 4-star aparthotel 
Studio One – 4-star hotel 
The S Hotel Al Barsha – 4-star hotel
Ghaya Grand Hotel & Apartments and Aloft Me'aisem are situated in Dubai Production City (IMPZ) while Park Inn by Radisson is the only motor themed hotel in the city and is located in Dubai Motor City. Treppan Hotel & Suites is in Dubai Sports City, Studio One Hotel is in Dubai Studio City whereas The S Hotel Al Barsha lies in Al Barsha.
TRANSPORTATION AND PARKING IN DIVINE HOMES
Each townhouse comes with two parking spaces. Guests, as well as those with more than two vehicles, can opt for street parking instead.
PUBLIC TRANSPORTATION NEAR DIVINE HOMES
Jumeirah Village Circle is abundant in a number of bus stops, all of which service the J01 Bus that takes individuals throughout the Al Barsha area. The closest bus stops near Divine Homes include Sobha Daffodil Apartments 1 Bus Stop and Al Wazzan Tower 1 Bus Stop. Other bus stops are located within a drive of a minimum of 4 to 5 minutes. 
Dubai Metro is one of the most popular forms of transportation in the city. To reach any of the metro stations near Divine Homes, a minimum of a 10-minute drive will be required. Mall of the Emirates Metro Station is 11 minutes away while Mashreq Metro Station and Dubai Internet City Metro Station 2 can be reached in 14 minutes. 
To travel via Dubai Tram, you can drive around 12 to 15 minutes and access any of the tram stations near Divine Homes, which are available from Al Sufouh to Dubai Marina. 
AMENITIES, SCHOOLS AND HEALTHCARE
SUPERMARKETS NEAR DIVINE HOMES
One of the best parts about the lifestyle of JVC is easy access to numerous supermarkets. Many of the best supermarkets in Dubai have their stores in JVC, thus adding to the family-friendly lifestyle of the community.
Supermarkets near Divine Homes are available in District 14 as well as the nearby districts, all of which are reachable within a drive of 5 minutes. Some of these include:
Xinxin – Maple 1 Emirates Gardens 2
Tudo Mart Supermarket – Magnolia 2 Emirates Gardens 2
Aswaaq Mart – Sydney Tower, District 18
Spinneys – Alfa Residence, District 13
Xinxin and Tudo Mart Supermarket are some of the smaller supermarkets in the community. Aswaaq Supermarkets are a go-to destination for those looking for cheaper grocery in Dubai as they have an array of household and fresh items under affordable pricing. 
Spinneys supermarkets in Dubai are renowned for offering organic and fresh items along with toys, ice cream, magazines and ready-made hot food. Its JVC branch is located in Alfa Residence. 
MOSQUES NEAR DIVINE HOMES
Mosques near Divine Homes include:
Masjid Fatima Al Sayed Muhammed Yousuf Sharaf – District 13
Saleh Mohammed Bin Lahej Masjid – District 10
JVC Masjid – District 16
Masjid Fatima Al Sayed Muhammed Yousuf Sharaf is the closest mosque at a 4-minute drive whereas Saleh Mohammed Bin Lahej Masjid and JVC Masjid are 8 minutes away from the townhouses.
OTHER PLACES OF WORSHIP NEAR DIVINE HOMES
For Christians, there are plenty of churches in Dubai, the closest of which include:
Emirates Baptist Church International – Grand Excelsior Hotel, Al Barsha14
United Christian Church of Dubai – Dubai Evangelical Church Centre, Jebel Ali
St. Francis of Assisi Church – Jebel Ali
Emirates Baptist Church International consists of a congregation within Grand Excelsior Hotel at a 14-minute drive mostly consisting of expat English-speaking Christians. The United Christian Church of Dubai is an evangelical church and it receives more than 1,000 attendants from different nationalities. St. Francis of Assisi Church is a Catholic Church.
Hindus can drive towards Bur Dubai for around 30 minutes and offer prayers in the temples in the community. There are three temples in Bur Dubai and they cater to different sects within Hinduism.
Guru Nanak Darbar, the largest Gurudwara in the Gulf Region is only 17 minutes away. Located in Jebel Ali Village, the Gurudwara is open to both the Sikh community and people of other faiths. 
SCHOOLS NEAR DIVINE HOMES
The only school in JVC is JSS International School, which is 8 minutes away from Divine Homes. Following the curriculum of the Indian Certificate of Secondary Education (ICSE), JSS International is one of the top Indian schools in Dubai and it offers classes from Kindergarten to Grade 12.
Other than that, there are many nurseries in and around Jumeirah Village Circle, which proves convenient for those with toddlers and younger kids.
For more options, there are many schools in the nearby communities, such as:
Sunmarke School – District 5, Jumeirah Village Triangle
Arcadia School – District 9, Jumeirah Village Triangle
GEMS Founders School – Al Barsha South
Renaissance School – Dubai Sports City
Arcadia School and Sunmarke School are located in the immediate neighbourhood namely Jumeirah Village Triangle. These require a drive of around 15 minutes to reach. Formerly known as The Arcadia Preparatory School, Arcadia School offers classes from Foundation Stage 1 to Year 8 based on the National Curriculum of England.
Sunmarke School is part of the Fortes Education Group and follows the Positive Education (PostEd) culture by teaching the National Curriculum of the United Kingdom. Classes here are available for students aged from 3 to 18 years.
Gems Founders School offers classes from Foundation Stage to Sixth Form based on the British Curriculum while also following guidelines from UAE's Ministry of Education (MOE). It is reachable within 10 minutes from Divine Homes.
Renaissance School follows the US National Curriculum that is upgraded based on New York's Curriculum. Moreover, the school follows guidelines from the Ministry of Education (MOE) for subjects like Social Studies, Arabic and Islamic Studies. At the moment, the school consists of classes from Kindergarten to Grade 5 whereas plans for expanding the school till high school are underway.
CLINICS AND HOSPITALS NEAR DIVINE HOMES
For medical treatments and emergencies, Karama Medical Centre is the only option within JVC, located in District 11. It is a multi-specialty hospital that offers diagnostic services too such as CT scans, ultrasounds, MRIs and X-rays. 
Other hospitals near Divine Homes include:
Saudi German Hospital Dubai – First Al Khail Street, Al Barsha
Emirates Hospital Day Surgery & Medical Centre – 1/1, Honsho Road, Uptown Motor City
7 Dimensions Medical Centre – Diamond Business Centre Block A, Arjan
Saudi German Hospital is the closest option outside the community and amongst the best hospitals outside of JVC. It is 9 minutes away in Al Barsha 3 and facilitates international patients too. Emirates Hospital Day Surgery & Medical Centre and 7 Dimensions Medical Centre are 13 minutes away from Divine Homes. 
NEARBY AREAS
The immediate neighbours of District 14 are:
District 13
District 18
Nakheel Villas
District 15
District 13, District 18 and District 15 are similar sub-communities with a mixture of apartments, villas and townhouses. Nakheel Villas are located in the heart of Jumeirah Village Circle and consist of 2-bed and 4-bed villas built in Mediterranean and Arabian styles.