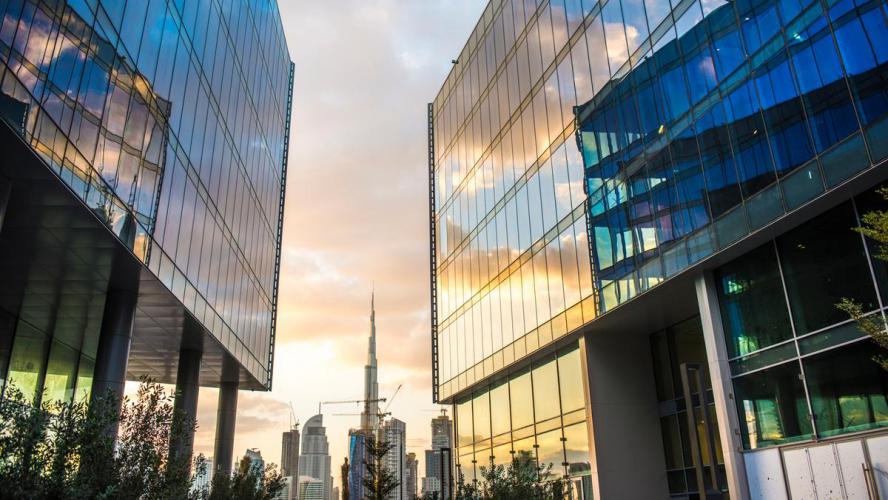 NEIGHBOURHOOD
COMMUNITY OVERVIEW
TECOM Group launched the project in 2013, which was to develop a space to encourage creative thinkers and bolster local as well as international talent, related to art, design, culture and fashion. 
The development was set to be completed in three phases, with the first phase reaching completion in 2015 while the other two phases are currently underway. Made up of 11 buildings, the first phase offers office units, co-working spaces, showrooms and retail outlets.
Dubai Design District consists of many recreational facilities too, such as The Block as well as some nightlife options. The overall district is laden with artwork of different kinds and is being built as part of the Dubai Plan 2021, making it one of the best places with street art in Dubai. The district is where local talent and aspiring designers can work and play while start-ups and emerging businesses can also enhance their growth. 
PROPERTIES IN DUBAI DESIGN DISTRICT
Properties in Dubai Design District include:
Co-working spaces
Showrooms
Retail outlets
The completed buildings in the area feature fully-developed offices and studios that are available as co-working spaces too. These co-working spaces cover a wide range of services, from high-speed internet to pantry service and much more. Businesses that have licenses registered with the Dubai Development Authority (DDA) can rent these offices. Moreover, freelancer licenses are also available for those working in industries related to design and fashion. 
HOTELS NEAR DUBAI DESIGN DISTRICT
While there are no hotels in Dubai Design District, the immediate neighbours such as Business Bay are abundant in terms of chic hotels. A few of these include:
Paramount Hotel – 5-star hotel
Doubletree by Hilton Dubai – 4-star hotel
JW Marriott Marquis Hotel – 5-star hotel
All of these renowned hotels in Business Bay boast of some of the most world-class options when it comes to renting a suite, dining or indulging in luxury overall. DoubleTree by Hilton Dubai is situated in the mixed-use complex namely Bay Square.
Drawing inspiration from the 105-year history of Paramount Pictures, Paramount Hotel pays ode to the glamour of Old Hollywood. It offers movie-themed suites along with a Malibu Deck bar, a scene room, a screening room and facilities such as a dine-in cinema, pools and a fitness studio.
JW Marriott Marquis Hotel is made up of two skyscrapers, each standing on 82 floors making it the second tallest hotel in the world. The hotel houses many fine dining restaurants and bars along with 1,608 luxury accommodations.
TRANSPORTATION AND PARKING IN DUBAI DESIGN DISTRICT
For parking in Dubai Design District, one can find reserved spaces in the garages. A unique feature of these garages is the artwork embossed, which give them a creative edge.
PUBLIC TRANSPORTATION NEAR DUBAI DESIGN DISTRICT
The public transport system of Dubai makes it easy to travel via taxis, buses, metro and even trams. Taxis can be booked through the RTA app while those interested can use ride-hailing services such as Uber and Careem too.
The district has one bus stop namely Dubai Design District Bus Stop, which services the routes D03 and D03A. These routes take you to the Dubai Mall as well as the bus stops and metro stations in the surrounding. 
For boarding Dubai Metro, you have to drive from 6 to 10 minutes and find some of the metro stations near the Dubai Design District. Financial Centre Metro Station and Emirates Tower Metro Station are reachable via Financial Centre Road (D71), whereas, for reaching Business Bay Metro Station and Burj Khalifa/ Dubai Mall Metro Station, you have to take the Ras Al Khor Road then turn towards Al Meydan Road and land on Sheikh Zayed Road (E11). 
You can also reach Creek Metro Station and Al Jadaf Metro Station by boarding through Al Ain – Dubai Road then the Al Khail Road (D63), both of which are also reachable within 11 minutes. 
AMENITIES, SCHOOLS AND HEALTHCARE
SUPERMARKETS NEAR DUBAI DESIGN DISTRICT
For quick groceries, one can find All Day Gourmet in Building 1, which is the 52nd outlet of the Allday chance of convenience stores in the UAE.
Other supermarkets near Dubai Design District are situated in Business Bay and Downtown Dubai, such as:
F Mart Supermarket – DAMAC Towers by Paramount Hotels & Resorts, Business Bay
West Zone Fresh Supermarket – Fairview Residency, Business Bay 
Spinneys – West South Ridge, Downtown Dubai
These supermarkets rank as amongst Dubai's best supermarkets, owing to their wide-ranging and high-quality items. Spinneys supermarkets in Dubai and in the UAE are renowned for their organic and fresh products, as well as ice creams.
MOSQUES NEAR DUBAI DESIGN DISTRICT
Prayer rooms are available in Building 2 and Building 11. For larger mosques, one can head over to the nearby communities. Some of the mosques near Dubai Design District are:
Ahel Alsunnah – 26 Street, Za'abeel 2
Al Ghafoor Mosque – Al A'lam Street, Downtown Dubai
Al Wasl Club Mosque – Oud Metha Road, Al Jaddaf
Al Ghafoor Mosque is an expansive mosque in the Business Bay area, covering a built-up area of 14,634 sq. ft. 
OTHER PLACES OF WORSHIP NEAR DUBAI DESIGN DISTRICT
Hindus can resort to the temples in Bur Dubai, which are reachable within a drive of 20 minutes. The Bur Dubai is densely populated with Hindu expats from India, thereby serving as the prime spot for temples in the city.
Most of the churches near Dubai Design District can be found in the Umm Hurair 2 and Oud Metha communities. These include:
St. Mary's Catholic Church – Umm Hurair 2
Holy Trinity Church – Umm Hurair 2
St. Thomas Orthodox Church – Oud Metha
The Norwegian Seamen's Centre – Oud Metha
All of these are renowned churches of Dubai and require a drive of 12 minutes to reach. St. Mary's Catholic Church is not only one of the oldest in Dubai, but in the overall Gulf region too. 
Guru Nanak Darbar Gurudwara, located 24 minutes away is open to the Sikh community as well as people of other faith throughout the year. Covering 125,000 sq. ft. of an area in Jebel Ali Village, the Gurudwara is the largest in the Gulf region. 
SCHOOLS NEAR DUBAI DESIGN DISTRICT
The district is home to the Dubai Institute of Design and Innovation, which offers the Bachelor of Design (BDes) degree. Students get to learn through various workshops and develop their own 'cross-disciplinary' study paths by combining two or more disciplines. It is located in Building 4.
The ground floor of Building 2 houses the Blossom Nursery, which serves as a point of convenience for parents who work in the area. Not only do Blossom Nurseries in Dubai have qualified educators, but paediatricians and nurses too for helping children throughout.
Some of the schools near Dubai Design District are some of the best schools in Dubai. These include:
JSS Private School
Hartland International School
Swiss International Scientific School
Jagadguru Sri Shivarathreeshwara Private School or JSS Private School is 9 minutes away in Al Wasl. Following the CBSE curriculum, the school is part of the Indian-based charitable trust namely JSSMVP group and offers classes from Kindergarten 1 to Grade 12, making it one of the best schools near Business Bay. It is also one of Dubai's most premium schools.
Hartland International School lies at a 9-minute drive in Mohammed Bin Rashid (MBR) City. It has been developed by The Sobha Group and offers classes from Foundation Stages to Year 11, following the National Curriculum of the UK. Being one of the IB schools in Dubai, Hartland International School offers IB courses in the higher classes too.
Swiss International Scientific School is 14 minutes away in Al Jaddaf. Offering a bi-lingual syllabus with a combination of English / French and English / German, the school follows the IB curriculum and has classes from Pre-Kindergarten to Grade 12.
CLINICS AND HOSPITALS NEAR DUBAI DESIGN DISTRICT
Some of Dubai's best hospitals are reachable within a drive of 9 to 12 minutes, such as:
Emirates Hospital & Clinic – Bay Avenue Business Bay
Iranian Hospital Safa Clinic – Al Quoz 1
Latifa Women and Children Hospital – 7, Latifa Hospital Street, Al Jaddaf
The Business Bay branch of Emirates Hospital & Clinic has a medical staff available for cardiology, dentistry, dermatology, ENT, obstetrics and gynaecology, internal medicine, paediatrics and general medicine.
Safa Clinic provides medical services in dentistry, dermatology, ENT, internal medicine, paediatrics and has a radiography unit as well as a laboratory. Latifa Women and Children Hospital is one of UAE's largest maternity and children's hospitals. 
NEARBY AREAS
Nearby areas include:
Business Bay
Za'abeel
Ras Al Khor
Mohammed Bin Rashid City 
Meydan City
Located to the west of D3, Business Bay is a mixed-use neighbourhood that mirrors the fast-paced lifestyle of Manhattan in New York City and is becoming the central business hub of Dubai. It borders Downtown Dubai, a sought-after tourist destination in the city.
On the northern side of Dubai Design District is Za'abeel, which is a large mixed-use area that encompasses Al Kifaf, Za'abeel 1 and Za'abeel 2. It is home to the Za'abeel Palace and Za'abeel Park, which further houses the renowned Dubai Frame. 
Ras Al Khor borders Dubai Design District to the east. Covering a residential area and the Ras Al Khor Industrial Area (a mixed-use zone), the community consists of freehold properties too. It is also known for being close to the Ras Al Khor Road (E44) and housing the Ras Al Khor Wildlife Sanctuary. 
To the south are Meydan City and Mohammed Bin Rashid City, both of which form part of the larger Nad Al Sheba. Meydan City is an off-plan project spanning 40 million sq. ft. of land area. 
Mohammed Bin Rashid City or MBR City is a mixed-use development, currently under construction. It offers luxurious mansions, apartments and villas and will be home of the largest shopping centre in the world.