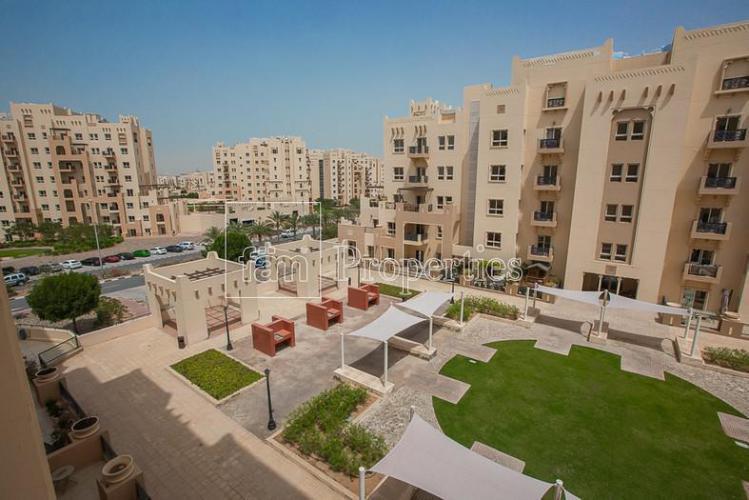 BUILDING DETAILS
Facilities in Al Ramth 45, Remraam
Parking
The ground floor of the building has a covered parking lot. Parking in Al Ramth 45, Dubai allocates one to two slots with apartments. Visitors and guest can use street parking outside the building.
Elevators
There are two elevators in Al Ramth 45. A separate power backup is also there to support these elevators.
Security, Central Air-Conditioning and Maintenance Services 
Having been the part of a gated community, the apartment building has CCTV cameras and security staff. They monitor corridors, entrance and communal areas. Central air-conditioning maintains indoor temperatures. Maintenance staff oversee infrastructure and provide free repair for building residents.  
Event Space
Open green areas in the community have sitting areas and outdoor barbecue facilities. Residents can use these communal parks as event space.
Gym and Fitness Facilities 
Instead of a separate gym in Al Ramth 45, there is a well-equipped health club in the Remraam Community Centre. The fitness centre has the latest exercise machines, asteam room and sauna facilities.
Lifestyle Amenities
Remraam boasts plenty of modern lifestyle amenities. The master community has basketball and tennis courts and multiple shaded play areas for kids. Also, there are jogging tracks around parks and separate swimming pools for kids and adults.
Concierge and Guest Services 
The ground floor of the building has a reception lobby. Desk staff at the reception provides 24-hours concierge services for residents and guests.
Pet-friendly
Al Ramth 45 is a pet-friendly building.
Safety Features
Fire safety equipment is present in each apartment and shared facility areas. Fire extinguishers, smoke detectors and fire alarms help to handle emergency fires.
Apartment Types in Al Ramth 45, Remraam
Apartments in Al Ramth 45 include spacious studios and apartments with 1, 2 and 3-bedrooms. Built-in wardrobes in the bedrooms and cabinets and drawers in the kitchen provide plenty of storage space. Bathrooms are tiled and outfitted with luxury sanitary ware.
Each unit has an open kitchen at the entrance, which leads to living and dining area. Kitchen is outfitted with stone countertops, sink and exhaust hood.  It also has space for cooking range and refrigerator. Most of the apartments have outdoor balconies.
Studio Apartments in Al Ramth 45
The floor area of studio ranges from 368 sq. ft. to 626 sq. ft. Regardless of their sizes, studios have an open kitchen, a full bathroom and a sleeping area. Smaller layouts don'€™t have balconies.
1-Bedroom Apartments in Al Ramth 45
Spreading over the area of 666 sq. ft. to 1,373 sq. ft. 1-bedroom apartments in Al Ramth 45 come several designs. These units have a master bedroom with attached bathroom, an open kitchen and a living room. Flats with larger floor area also have a utility room and guest washroom. Few designs don'€™t have a balcony, whereas others have a balcony or terrace.
2-Bedroom Apartments in Al Ramth 45
2-bedroom apartments have a built-up area of 1,027 sq. ft. to 1,500 sq. ft. Floor plan of 2-bedroom apartments has a master bedroom with walk-in closet and en-suite washroom. Few designs also have an attached bathroom with other bedroom and a powder room in the living area.
Layouts that don'€™t have a guest washroom; they have a full bathroom in the lobby area of bedrooms. A small laundry room, an open kitchen and a balcony are also the part of 2-bedroom units.
3-Bedroom Apartments in Al Ramth 45
3-bedroom apartments have the largest area ranges between 1,500 sq. ft. to 2,000 sq. ft. Master bedroom has an en-suite bathroom. Few units also have an attached bathroom with another bedroom. There is a bathroom in the bedroom lobby area and a guest washroom at the entrance.
Also, there is an open kitchen, a living room and a laundry room. These apartments either have a large terrace or two balconies.
Most Popular Apartment Types in Al Ramth 45, Remraam
Based on searches conducted by users on PropertyDigger.com over the past 12 months
According to the total property searches on PropertyDigger, 1-bedroom apartments in Al Ramth 45, Dubai got the first position with the highest searches. Rest of the unit types showed significantly lesser searches. They are ranked as 2-bedroom units on the second position, whereas 3-bedroom flats and studios obtained third and fourth positions.
Rental Trends in Al Ramth 45, Remraam
Like other apartment buildings in Remraam, Al Ramth 45 offer apartments at reasonable rents. Apartments for rent in Al Ramth 45 can be leased at an annual rent of:
You may also check apartments for rent in Remraam offers more rental options.
Sale Trends in Al Ramth 45, Remraam
Apartments in Remraam have everything from space, interiors and modern lifestyle amenities. Yet, buying prices fall in a reasonable range.
You may check prices for apartments for sale in Al Ramth 45.
Apartments for sale in Remraam will offer ample options to choose from if you are looking to invest or buy a home for your family.
Service Charges in Al Ramth 45, Remraam
These figures are based on the services charges for Al Ramth 45* as per the Dubai Land Department.
There are many different types of Dubai Land Department Service Charges, read up on the service charges guide if you are interested in buying a property in Dubai.
*These charges are subject to change.