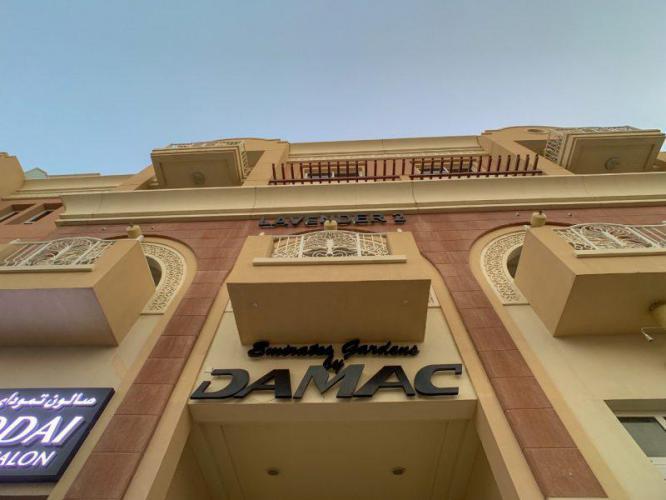 BUILDING DETAILS
Facilities in Lavender 1
Parking
The ground floor of the building has a covered parking facility for residents. Residential parking in Lavender 1 allocates one slot for each apartment. Visitors can use street parking outside the building.
Elevators
Elevators in Lavender 1 have a separate power backup for round-the-clock performance. The residential building has a service elevator and a passenger lift for the convenience of residents.
Security, Central Air-Conditioning and Maintenance Services 
Central air-conditioning and heating systems control the indoor temperature according to the weather. Empower provides district cooling for the project. CCTV cameras and security staff provide 24-hours security services for the building residents. Also, an onsite team takes care of the building amenities and provides maintenance and repair of infrastructure amenities.
Event Space
The rooftop of the building has barbecue pits and shady sitting areas. Residents can use this rooftop facility for family gatherings.
Gym and Fitness Facilities 
The residential project has a shared fitness facility for residents. Gym in Lavender 1 has state-of-the-art exercise equipment. Along with that the health club also has a sauna and steam room facilities.
Lifestyle Amenities
The family-friendly development has several lifestyle amenities. It has a rooftop play area for kids, an outdoor swimming pool on the ground floor with a dry deck and shower facilities. All apartments have connections for internet and satellite cable. Building management also provides cleaning and waste disposal services.
Concierge and Guest Services 
There is a waiting lobby on the ground floor. Desk staff offers guest and concierge service for visitors and residents.
Pet-friendly
It is a pet-friendly building.
Safety Features
Apartments and shared facility areas are outfitted with fire safety equipment. Smoke detectors and fire extinguishers efficiently manage accidental fires.
Apartment Types in Lavender 1
Lavender 1 features 40 apartments, which include studios and flats with 1 and 2 bedrooms. Regardless of their type or size, all units have an open kitchen. The spacious cooking area has ample cabinet storage and stone countertops. Along with that it also has a sink and space for home appliances.
Bedrooms are also spacious and outfitted with floor to ceiling double-glazed windows and built-in wardrobes. Whereas the living room has a glass door to access the balcony. Tiled flooring across the interior looks elegant. Wall to wall ceramic tiles and sanitary ware enhance the functionality and appearance of bathrooms.
Studio Apartments in Lavender 1
Studios have a floor area ranges from 473 sq. ft. to 518 sq. ft. They have a spacious layout, which has a cooking area and a full bathroom on both sides of the entrance. After that, there is a broadened sleep and dining area. Studios also have a built-in wardrobe along the wall and a balcony on the exterior side.
1-Bedroom Apartments in Lavender 1
Covering the built-up area from 923 sq. ft. to 1,155 sq. ft. 1-bedroom apartments have a bedroom with en-suite bathroom and a powder room in the living room. There is a huge kitchen at the entrance, which leads to the living and dining area. Both the living room and bedroom are connected to a common balcony via glass doors.
2-Bedroom Apartments in Lavender 1
2-bedroom apartments are the largest units in the project. Both bedrooms have attached bathrooms. The master bedroom also has a walk-in closet. The large living and dining area have floor to ceiling windows and two balconies. Also, there is a powder room at the foyer entry. After the foyer entry, there is a spacious kitchen.
Most Popular Apartment Types in Lavender 1
Based on searches conducted by users on PropertyDigger.com over the past 12 months
PropertyDigger ranked apartments in Lavender 1. Based on total property searches 1-bedroom flats come on the first position with highest searches. Studios ranked in the second position.
Rental Trends in Lavender 1
Emirates Garden is listed among the top five locations in JVC. Apartments for rent in Emirates Garden offer spacious accommodation with modern lifestyle amenities.
The annual cost estimate for the apartments for rent in Lavender 1 are given below:
Apartments for rent in JVC offer more variety of accommodation options for home seekers. You may also check to find more rental options.
Sale Trends in Lavender 1
Apartments for sale in Emirates Graden offer not only good returns on the investments but also attract home buyers looking to buy an apartment in a family-friendly community.
Estimated buying cost for apartments for sale in Lavender 1 is:
You may also check apartments for sale in JVC for more options. Prices may fluctuate according to demand among buyers.
Rental Yield in Lavender 1
Based on searches conducted by users on PropertyDigger.com over the past 12 months
Apartments in Lavender 1, JVC offer a good return on the investment. 1-bedroom apartments in Lavender 1 give an ROI of 9.3%.